Shipping, Returns & Exchanges
SHIPPING
All orders are shipped via FedEx Home Delivery. Expedited shipping is not available at this time. Please note that since FedEx Home Delivery does not deliver to P.O. Boxes, you will need to provide a physical address when ordering so that we can ship the order out to you.
You will receive a shipping confirmation email when your order is processed to leave our warehouse, with a FedEx tracking number to track the shipment. Once shipped, please allow an additional 1–3 business days for your package to arrive, based on your location. Please see our map below for an estimate on Fedex delivery times.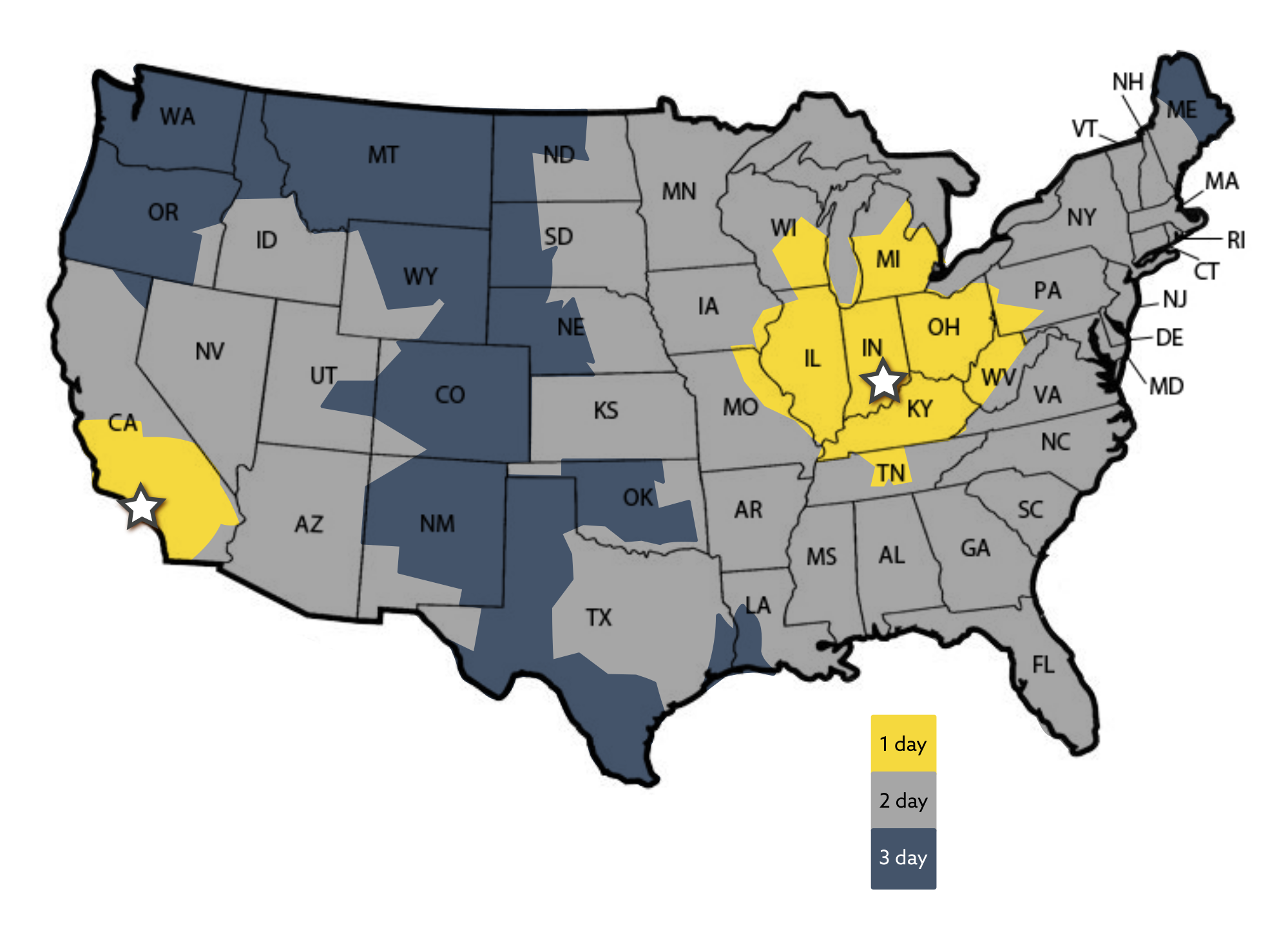 We apologize for the inconvenience, but due to the shipping costs involved we currently do not ship outside the 48 contiguous continental United States. For Alaska, Hawaii, US territories, FPO/APO and international addresses, please consider a forwarding service like reship.com to have the order delivered to you.
GENERAL RETURN & EXCHANGE POLICY
Return in 30 days for 100% store credit if the item is unused in the original box. We cannot accept returns on used products because we can't resell a used item. Nobody wants their dog on a used bed! Items must be free of dirt & pet hair. Orders that are sent back to us in anything except the original box will incur additional freight charges, from the carrier, that are out of our control and will be deducted from the order amount to be credited back.
Custom embroidery items cannot be exchanged or returned.

Click here to submit a return claim.

Click here to submit an exchange request.
Items do not qualify for return or exchange if they:
Have been personalized with embroidery
Have had their tags removed
Show signs of use (includes, but is not limited to: evidence of dog fur, dander, dirt, stains, scratch marks, odors, etc.)
Have been washed
Have been damaged
Were received more than 30 days ago
All returns are thoroughly inspected upon receipt. We reserve the right to deny store credit to any items returned to us that are not in new, unused condition. Custom embroidery items cannot be exchanged or returned.
We provide return labels only if the item is sent back in the original box.
There is no shipping or handling fee for exchanges. There is a $30 shipping fee per box on returns to cover the cost of shipping both ways, but this fee will be waived if you opt for a refund in store credit or place a new order on our site
. We will send a FedEx shipping label to be dropped off at a FedEx location.
If you no longer have the original box, we cannot provide a return label and you are responsible for shipping it back. If our return label is used on any box other than the original (or no box at all), the full cost of the shipping label will be deducted from the final store credit. If the cost of the label exceeds the total store credit amount, no credit will be given.